With our Trading Tools, you'll have no more worries!
Good traders need better trading tools. That's why we provide top-class tools and solutions for all kinds of traders.
Trading Tools & Technology
Choose the perfect tools as per your need!
Trade guide Signal
TGS is a semi-Algorithmic tool based on a predictive trading engine for traders using machine learning and deep industry insights. It spots trading opportunities by continuously scanning the market on parameters live price, volume and open interest, and building higher trading decisions.
Works in all segments viz Equity, Derivatives, Commodity & Currency.

Suitable for all trading styles, i.e. Positional, Swing, Intraday & Momentum.

Pre-defined technical rules for generating buy/sell trading ideas.

Real-time trading ideas for buying and short selling

Trailing Stop Loss facility to manage risks

1- click trade execution with pre-planned trading rules
TGS Pick: Automatically choose around 20 stocks that are currently the best performers based on recent market analysis
Trader's Choice: Automatically finds the top 10 stocks selected by traders to assist you in your stock selection
Real-Time Notifications: SMS and email notification of entry or exit signals.
Sensibull
It is an advance option trading platform with intelligence and intuition to find and execute ideal option strategies.
Advanced tools for analysing your trades

Performance analysis of options using Greeks and Payoff matrix

Event tracker and FII/DII data. 

Custom options strategy builder for advanced option traders

Analytical tools to track open interest & options strategies performance

Option Screener to find suitable buying and selling opportunities

Various warnings and insights about risks, expiry, holidays and more

Practice options trading with virtual money
Strategy wizard: Strategy suggestions based on your views on the market.
Educational content: Learn option trading through the relevant section of educational content.
Advice: Get advice on WhatsApp for possible strategies, including real-time updates
Option Chain: Greeks and OI analysis integrated within the option chain. Buy/Sell directly through Option Chain.
Option Strategy Builder
This innovative tool helps plan, build, and execute up to four legged option strategies based on the spread. The user can set the trading parameters based on pre-defined strategies which eliminate the need for continuously monitoring the market. Thus, it reduces the opportunity cost and allows for the better discovery of price during the execution of the option strategy. The tool also helps in Realtime monitoring of the strategies.
Build customised and pre-defined option strategies.

Define Entry, Exit and Stoploss in a single order.

Execute the desired spread in just one click without manual intervention.

Option to create up to four legged strategies in any combination.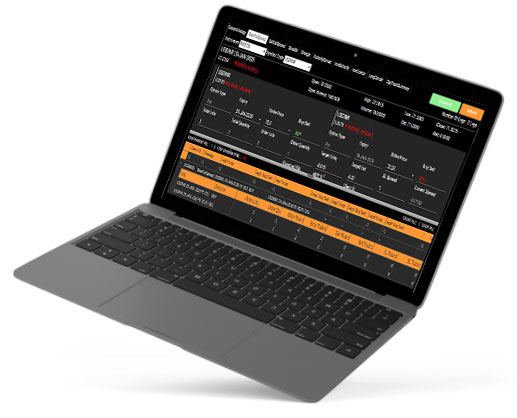 Pay off charts for P&L estimation.

Ratio based FNO spread trading.

Works for both equity and currency options.

Execute orders at a future date using save and load functionality.
Tradetron
Tradetron is a multi-exchange Algo strategy platform which allows traders to create their trading Algos or use Algos created by other traders.
No Software Download, data linking or extra charges required for the data

Dedicate bots to your strategy for fast & continuous conditions checking & execution
Option Decoder
A vital tool to dynamically monitor and manage Option Portfolio like a Pro-Option trader
50+ Chart Indicators
Line, Area, OHLC and candlestick Charts on linear or log scale with the 50+ Charts Indicators for technical analysis
Power trade
A single-screen menu that enables the user to place multiple orders in different scrip across segments